A

bout us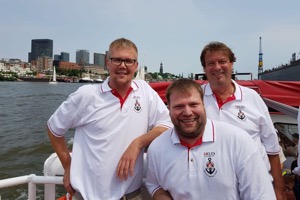 Delta Klarierung was founded in 1995, by Karl Rosenbaum and Klaus Bielefeld.
The main focus of the two captains was to create a service orientated company offering ships related services within the port of Hamburg, especially vessel clearance.
Due to their long experience at sea and ashore, the yearly volume of cleared vessels was rising constantly, leading to the fact that in 2004 Hendrik Grobe was welcomed onboard of Delta Klarierung.
When Karl Rosenbaum went into retirement (01.05.2008), shortly followed by Captain Klaus Bielefeld (31.12.2010). Mathis Stolle (01.05.2008) signed on and joined the Delta crew.
At present we are acting on behalf of various worldwide operating shipping companies and watch out for about 700 vessel calls per year.
The Port of Hamburg is our home!